Vorwort zum Spiel
Heute widmen wir uns Matt Cohen und seinem Spiel namens Paranormal. Warum ich einen Namen nenne hat einen Grund. Matt Cohen entwickelt dieses Spiel komplett alleine. Paranormal ist ein Horrorspiel was auch wirklich den Namen und die Kategorie Horror verdient hat. Paranormal ist seit dem 19 Oktober 2012 bei Steam für 9,99€ erhältlich und bei Desura für 7,99€. Paranormal wurde mit Hilfe von Kickstarter.com einer Crowdfunding Plattform finanziert. Als Ziel waren 800$ gesetzt und das Projekt erhielt mehr als das 10 Fache.

Wer von euch denkt bei dem Wort Horrorspiel nicht zum Beispiel an Outlast? Wobei dieser Titel eher in das Survival-Splatter Genre eingereiht werden müsste. Paranormal hingegen setzt auf die klassische Poltergeist Atmosphäre. Matt wurde bei der Entwicklung von diversen Horrorfilmen inspiriert wobei man vermuten könnte, dass die Filme der Paranormal Activity Reihe die meiste Inspiration und zum Teil auch Vorlage für das erste Level waren. Neben Paranormal Activity kam auch von den Filmen The Blair Witch Project, Grave Encounters, Poltergeist, REC und The Grudge sowie von den Spielen F.E.A.R, Alan Wake, Penumbra sowie Nightmare House 2 eine gewisse Inspiration.
Das Spiel setzt auf richtige Schock-Momente und bringt selbst hartgesottene ins Schwitzen. Da wir hier nicht viel spoilern wollen sei so viel gesagt, wenn ein Stein durch eine Scheibe fliegt, Schritte mitten in der Nacht zu hören sind oder eine Uhr von der Wand fällt ist dies noch sehr harmlos.
Story und so?!
Wir sind ein Künstler der in seinem Haus "seltsame Dinge" bemerkt und daraufhin überall im Haus Kameras installiert, er sagt selbst, dass er nicht Internet berühmt werden will. Mit einer Handkamera bewaffnet starten wir in das Geschehen und müssen das Geheimnis des Hauses lüften. Die Handkamera verliert dabei an Energie welchen wir durch schlafen wieder aufladen. Jeder Schlaf startet einen neuen Tag im Spiel und bringt neue zufällige Paranormale Aktivitäten genau wie jeder neue Start des Spiels. Man kann also nie wissen, was einen erwarten wird.
Paranormal lässt sich trotz einiger abstürze sehr gut spielen. Die Paranormalen Aktivitäten haben überwiegend sehr gute Effekte die uns erschrecken – manche aber auch nicht. Wir können uns im Haus frei bewegen und in der Garage erwartet uns eine Musikalische Überraschung. Wir sammeln Briefe und schauen auch im Notebook um dem Geheimnis des Hauses auf den Grund zu gehen.
Leveldesign
Das Level Design ist sehr detailliert und bietet nette Gimmicks wie zum Beispiel ein Ouija-brett welches uns eine Nachricht übermittelt oder die Bananen auf der Küchenablage. Was sehr beeindruckt ist, dass es eine Art "LetsPlay" Variante gibt, die mehr Tage im Spiel ermöglicht sowie die Unterstützung eines Gamepads. In der Unreal 3 Version wirken manche Szenen sehr unscharf was jedoch bei der Unreal 4 Version geändert wurde wie auf dem Bild deutlich zu sehen ist.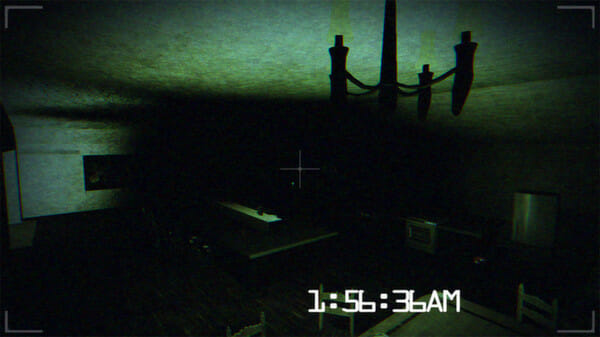 Fazit zu Paranomal
Wer sich also mal richtig gruseln möchte, dem kann ich PARANORMAL nur ans Herz legen, auch, wenn es "noch" relativ kurz gehalten ist.