Getreu dem Motto "Back to the 90s" möchten wir euch heute das Spiel MadTV vorstellen. MadTV stammt aus dem Jahr 1991 entwickelt von Rainbow Arts und ist eine Wirtschaftssimulation. Ziel des Spiels ist es als Programmdirektor einen TV-Sender zu gestalten, diesen mit ordentlichen Einschaltquoten zu pushen um so das Herz der süßen Betty Botterbloom erobern zu können. Was euch auf diesem Weg noch alles in MadTV begegnet erfahrt in hier, in unserem Review. MadTV kann kostenlos heruntergeladen werden, benötigt jedoch die DosBox.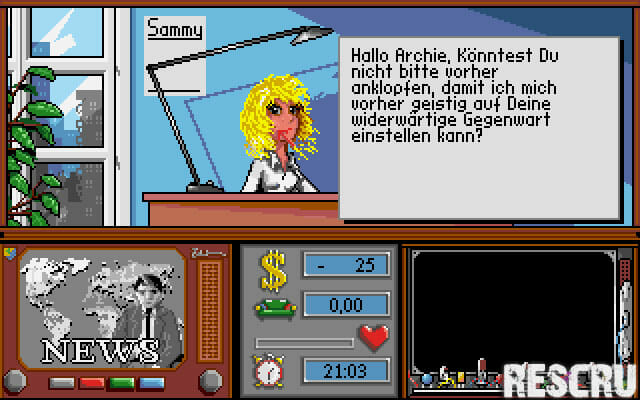 Wenn ich einmal Erwachsen bin…
"… dann werde ich den größten TV-Sender aller Zeiten haben" das muss sich Archie wohl gedacht haben als er den Posten als Programmdirektor vom TV-Sender MadTV übernommen hat.
So liegt es an uns genügend Zuschauerquoten durch ein gutes Programm zu generieren, entsprechende Werbeverträge einzukaufen, Serien- und Shows zu produzieren und der Konkurrenz durch Spionage- und Sabotage immer einen Schritt voraus zu sein.
Zu Beginn unserer Karriere haben wir recht wenig Geld zur Verfügung was bedeutet, dass wir uns erst auf kleinere Filme- und Serien stürzen sollten. Da dieses auch bedeutet, dass wir eine geringe Quote generieren sollte das bei den Werbeverträgen dringend berücksichtigt werden um keine Vertragsstrafen zahlen zu müssen, denn Werbeverträge können bestimmte Anforderungen wie zum Beispiel eine Einschaltquote von min. 20%, darf nicht bei Liebesfilmen gesendet werden enthalten.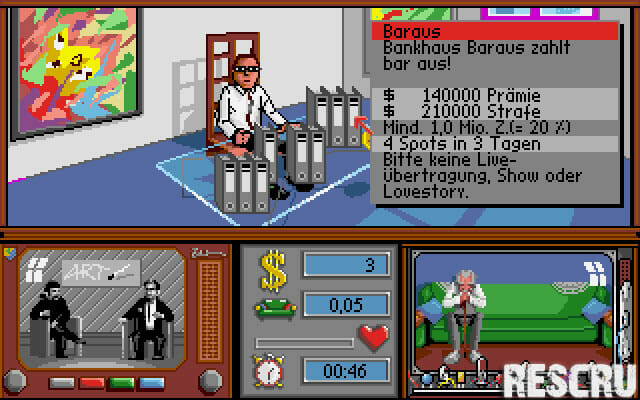 Filme erhalten wir in der Filmagentur und Werbeverträge in der Werbeagentur. Haben wir beides besucht und etwas mitgenommen müssen wir in unser Büro um am PC das TV-Programm für MadTV zu gestalten. Hier steht uns die Sendezeit von 18:00Uhr bis 00:00Uhr zur Verfügung.
Die Qual der Wahl!
Wir können die Sendezeit frei gestalten. Hierzu ziehen wir die Filme oder Serien in die Sendezeit-Slots und schon wird das Programm zu dieser Zeit gesendet. Neben den Filmen/Serien platzieren wir unsere Werbung um entsprechend Geld zu verdienen um mehr bzw. bessere Filme und Serien kaufen zu können. Bei den Filmen- und Serien sollen uns die Eigenschaften (Kritik, Aktualität, Presse und die Einnahmen an der Kinokasse) als Entscheidungshilfe dienen. Je voller diese sind desto mehr potenzielle Zuschauer können wir generieren.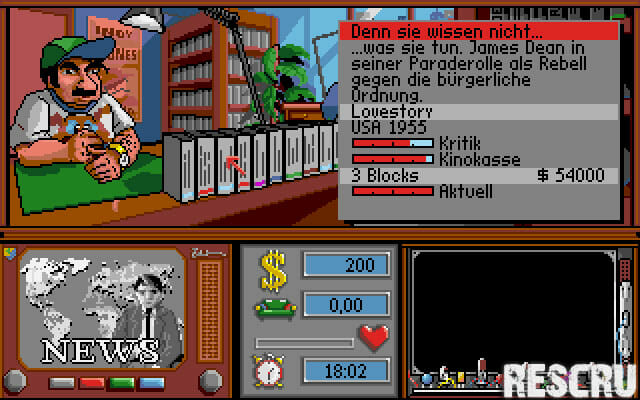 Wir haben im Reviewspiel zum Beispiel die Filme E.T., Meuterei auf der Bounty, Poltergeist und die LIVE-Übertragung von Olympia gewählt.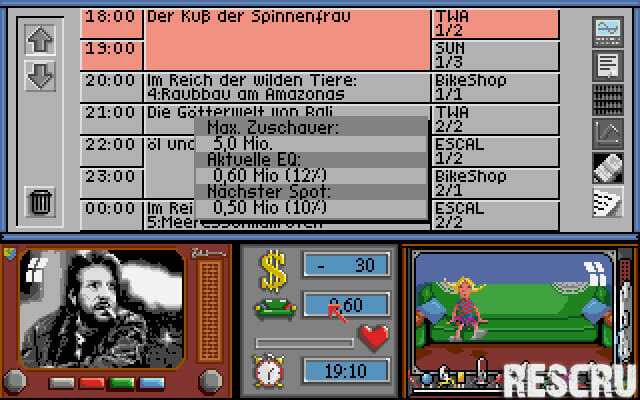 Immer größer und weiter
Haben wir genug Geld angesammelt können wir mithilfe der Landkarte in unserem Büro weitere Satelliten und Sendemasten kaufen um mehr Zuschauer generieren zu können. Aber Achtung, der Senderchef hat stets ein Auge auf uns und kann uns auch ganz schnell auf die Straße setzen, wenn wir nicht den gezielten Erfolg erzielen. Das bedeutet "Game Over"!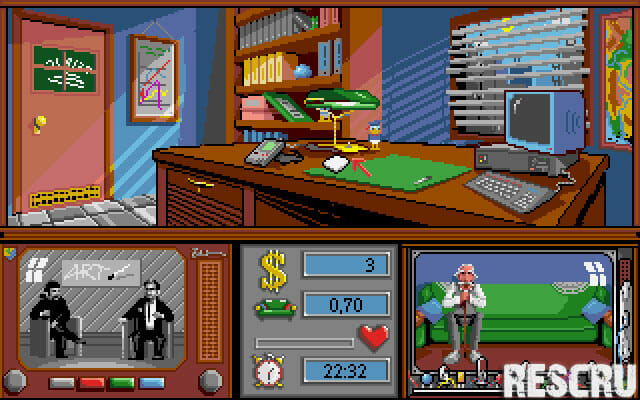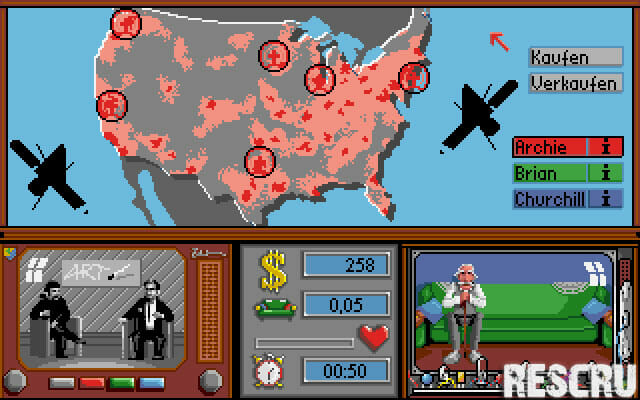 Fazit zu unserem TV-Sender | MadTV
MadTV ist eine klassische Wirtschaftssimulation mit vielen Aspekten die es zu beachten gilt wenn wir das Herz von Betty Botterbloom erobern wollen. Die Steuerung mit der Maus ist etwas hakelig was aber an der DosBox liegt. Die Grafik und den Sound werden wir an dieser Stelle nicht bewerten da es sich hier um ein Retrospiel handelt und der Spaß im Vordergrund stehen sollte. Passend zu diesem "harten Buisiness" sind auch die kantigen Charaktere wie zum Beispiel der TV-Chef und auch Betty Botterbloom. Wer schon immer mal sein eigens TV-Programm gestalten wollte ist bei MadTV genau richtig. Wir wünschen euch viel Spaß.